I am a certified member of the Professional Ski Instructors of America (PSIA) and the American Association of Snowboard Instructors (AASI). These two organizations certify instructors in the USA based on skiing/riding ability, teaching methodologies as well as technical knowledge. Look for these logos at your local resort school and individually worn by certified instructors.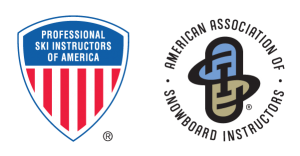 National Awards/Certifications:
PSIA Level 3 Alpine certification (the highest certification that PSIA offers)
AASI Level 1 Snowboard certification
PSIA Level 1 Telemark certification
Children's Specialist 1 (CS1) – a child specific accreditation
20+ year PSIA/AASI member
Regional Awards, Certifications and Roles:
PSIA Alpine Examiner (I evaluate skiers for their exams)
PSIA-NW Technical Team Member (regional demonstration team)
PSIA-NW Communications V.P.
PSIA-NW Mt Hood Regional Board Representative
Mt Hood Meadows Training Coordinator
I have been teaching skiing and snowboarding since I was a freshman in high school. Back then I was skiing on 205cm Slalom skis (now I have 165cm Slalom skis)! Times and equipment have changed a bit since my early days but the methods and techniques of creating memorable, fun experiences where learning occurs are timeless.